On behalf of His Highness Sheikh Mohamed bin Zayed Al Nayhan, President of the UAE, His Highness Sheikh Saud bin Saqr Al Qasimi, UAE Supreme Council Member and Ruler of Ras Al Khaimah, attended the official opening of the third Belt and Road Forum for International Cooperation at the Great Hall of the People in the Chinese capital, Beijing. Held under the theme 'High-Quality Belt and Road Cooperation: Working Together for Common Development', the Forum was attended by His Excellency Xi Jinping, President of the People's Republic of China, as well as heads of state, government leaders and representatives from more than 130 countries and several international organizations.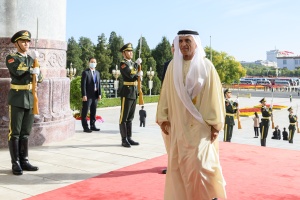 The Forum commenced with an opening speech from His Excellency Xi Jinping, President of the People's Republic of China, where he welcomed the leaders, heads of state and participating delegations from around the world. In his address, he highlighted the achievements of the Belt and Road Initiative, celebrating its 10th anniversary, and its role in improving quality of life, enhancing economic connectivity and promoting growth and prosperity for its members, which has increased to more than 150 countries and 30 international organizations.
At the International Convention Center in Beijing, as part of the program for the third Belt and Road International Cooperation Forum, Sheikh Saud also attended a key forum titled 'Digital Economy as a New Source of Development.' Attended by several leaders and heads of state, the forum discussed the important role played by digital projects in promoting sustainable development for Belt and Road countries through the exchange of data and knowledge, and the support of innovation and scientific research to tackle global challenges.
The Belt and Road Forum discusses several topics, including connectivity, green development and digital economy, trade connectivity, intercultural exchange,
think tanks, and cross-border and maritime cooperation, in addition to hosting the CEO Conference. China's Belt and Road Initiative aims to develop trade routes across continents, improve infrastructure, trade, investment and logistics services, and strengthen intercultural exchange to promote the commercial development, growth and prosperity of all participating countries.
The UAE delegation at the Forum included His Excellency Dr. Sultan bin Ahmed Al Jaber, Minister of Industry and Advanced Technology, UAE Special Envoy for Climate Change; His Excellency Sheikh Salem bin Khalid Al Qassimi, Minister of Culture and Youth; His Excellency Dr. Thani bin Ahmed Al Zeyoudi, Minister of State for Foreign Trade; His Excellency Dr. Ahmed bin Abdullah Humaid Belhoul Al Falasi, Minister of Education; and His Excellency Hussein bin Ibrahim Al Hammad, UAE Ambassador to the People's Republic of China, along with several other officials.