His Highness Sheikh Saud bin Saqr Al Qasimi, UAE Supreme Council Member and Ruler of Ras Al Khaimah, visited The Palace Museum in Beijing, a UNESCO World Heritage Site, on the sidelines of his visit to the People's Republic of China as head of the UAE delegation to the third Belt and Road Forum for International Cooperation.
Accompanied by the UAE delegation and Chinese officials, Sheikh Saud was introduced to the history of The Palace Museum, also referred to as the 'Forbidden City', which is one of the world's most famous historical landmarks, dating back 600 years and covering an area of 720,000 square meters. Sheikh Saud explored various sections of the city, once used as a residence by Chinese emperors, learning of its history and unique architectural style, gates, watchtowers, and artworks that symbolize power.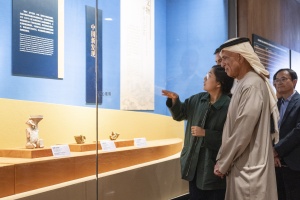 Sheikh Saud visited an exhibition of archaeological artefacts, displayed in The Palace Museum, that were discovered in various countries along the 'Silk Road' trade route, dating back to ancient Chinese civilization. He stopped to admire antique Chinese pottery, discovered in Ras Al Khaimah, and currently displayed at The Palace Museum. This exhibition represents a partnership between Ras Al Khaimah's Antiquities and Museums Department and The Palace Museum, one of the world's most prestigious museums.
Sheikh Saud stated that these archaeological artefacts, discovered in Ras Al Khaimah and displayed in The Palace Museum, confirmed the UAE's position as a significant trade center along ancient trade routes, acting as a commercial bridge between the Far East and the West throughout history. He further praised China's rich history and culture, its contributions to global development, and its role in the exchange of knowledge and science through cultural relations and international trade. China is considered one of the world's oldest civilizations.
The Ruler of Ras Al Khaimah was accompanied on the tour by His Excellency Sheikh Salem bin Khalid Al Qasimi, Minister of Culture and Youth, His Excellency
Dr. Thani bin Ahmed Al Zeyoudi, Minister of State for Foreign Trade, and His Excellency Hussein bin Ibrahim Al Hammadi, UAE Ambassador to the People's Republic of China.