A man-made island in Ras Al Khaimah, UAE, was just a dream in 2004. However, the will of Sheikh Saud bin Saqr Al Qasimi made that dream a reality and Al Marjan Island is now home to major entertainment and lifestyle offerings.  
In 2004, Ras Al Khaimah, the northern-most emirate of the United Arab Emirates, was beginning a journey to develop its tourism industry. Its first foray into community developments, Al Hamra Village, had recently been completed and its beautiful villas, apartments, mall and hotels were already proving a huge success.
His Highness Sheikh Saud bin Saqr Al Qasimi, then Crown Prince of the Emirate and now its Ruler, was keen to embark on further projects that would put the spotlight on Ras Al Khaimah as a burgeoning tourist destination and a great place for investors. So H.H Sheikh Saud assembled a team and developed the concept for what was to become Al Marjan Island – a group of four coral-shaped islands in a man-made archipelago located in the Arabian Gulf.
Ras Al Khaimah is an Emirate blessed with a diverse topography, comprising mountains, desert dunes and coastal areas. It already had 64km of beautiful beaches but Al Marjan Island sought to add a further 23 kilometers of waterfront on a quartet of islands that extended 4.5 kilometers into the Arabian Gulf.
Marjan, which translates to "coral", was to be built in the shape of the reef-building substance, a unique design feature that meant that each plot of land had a distinct identity and offered differing views of the sea or coastline.
"I always find that His Highness sees opportunities that others don't – he has that vision," says Abdullah Abdooli, CEO of Marjan, Ras Al Khaimah's master developer, which counts Al Marjan Island as its flagship residential and hospitality development.
"Who would have thought at that time that Ras Al Khaimah could become a hospitality destination? Few people would believe it but His Highness could envision it. Now, everything that you see on Al Marjan Island and everything yet to come stems from his foresight of what was possible."
With the blessing of the late Ruler, Sheikh Saqr bin Mohammed Al Qasimi, work commenced in 2004 on the Al Marjan Island project, making use of some of Ras Al Khaimah's existing resources and successful companies, which was a stipulation of H.H. Sheikh Saud.
Rocks and other materials were used from Stevin Rock and RAK Rock, transported via Saqr Port to the development site in the south of the Emirate, where nearby RAK Ceramics was already established as a world-leading ceramics manufacturer. A total of 3.5 million cubic meters of rocks were used in the construction of the island, which spans a total area of more than 2.7 million square meters.
The southerly location of Al Marjan Island was chosen due to its proximity to other emirates and due to the excellent transport infrastructure, meaning that visitors could travel from Dubai in just 45 minutes.
RAK Ceramics products, such as tiles and sanitaryware, were to be used for both interior and exterior furnishings, while Stevin Rock provided Marjan with pristine white sand for its beaches.
"From its inception, the project looked to utilize Ras Al Khaimah's resources and materials to really highlight to the world the Emirate's overall capabilities," says Mr. Abdooli.
"Ras Al Khaimah has been the source of materials for numerous major developments across the country and around the region, so we wanted people to have an awareness of that, and also to know that Ras Al Khaimah was capable of such a vast project.
"The island's development was a joint effort between various RAK Government entities and the private sector, overseen at every stage by His Highness Sheikh Saud bin Saqr Al Qasimi."
Land reclamation started in 2004, with dredgers blasting sand into position and then compactors creating solid foundations from this ubiquitous material for building work to commence. After three years, development began on the island in phases until it was officially opened in 2013.
The four islands were named Breeze, Treasure, Dream and View, with Breeze connecting the structure to the mainland and the others continuing out into the emerald waters of the Arabian Gulf.
On Breeze island, the DoubleTree Hilton Marjan Island and Rixos Bab Al Bahr were the first hotels to open, with the latter development also home to residential buildings operated by Al Hamra, the real estate developer behind Al Hamra Village.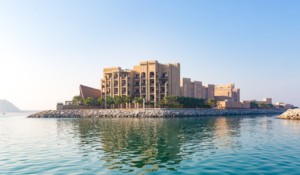 Al Marjan Island currently has more than 1,600 operational five-star hotel keys at the two aforementioned hotels and at the Marjan Resort and Spa by Accor, on Treasure island, in addition to more than 2,000 residential units at Bab Al Bahr and also at the Select Group's Pacific development.
In the pipeline are more than 1,680 hotel rooms under construction by leading global developers and 2,400 hotel, residential and mixed-use units under design review, with the plan to have all of them completed between now and 2025.
"We are also in discussion with several international operators to develop a range of hotels on Al Marjan Island that will meet the aspirations of every category of visitor from around the world, whether sightseer, adventure traveler, business executive or luxury vacationer," says Mr. Abdooli.
Among the properties already under construction is a Hampton by Hilton hotel; "the largest under the brand in the world and due in 2021," Mr. Abdooli says. "There is also the Conrad Marjan Island Resort, which will offer 120 guest rooms including beach villas and water villas, and the Mövenpick Resort Al Marjan Island, which has a total development value of AED 543 million and is scheduled to open in 2021."
The list of developers working on the island or looking to do so goes on and on – so much so that there are only about 25% of the original plots still available.
The roads infrastructure is fully completed and on Breeze island there is a promenade featuring walking and cycling tracks that stretch some 4,000 meters, a large children's play area, food trucks and coffee shops.
Work on a second promenade has also been completed, offering more open spaces and children's play areas, while also increasing public parking capacity to accommodate 400 vehicles.
"Al Marjan Island is a lifestyle destination and having attractions and amenities for residents and tourists is a key part of what we aim to offer," says Mr. Abdooli.
"There will be more entertainment hubs on the island in the future – places where people like to gather in the evenings. Of course, we also have our New Year's Eve fireworks display, which has become one of the biggest NYE events in the region in recent years."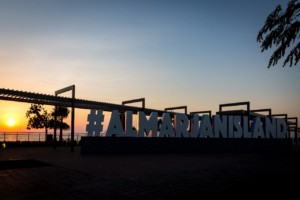 Since the first fireworks show that took place on Al Marjan Island in 2018, the event has accumulated no less than five Guinness World Records; the 'Most Unmanned Aerial Vehicles for Launching Fireworks Simultaneously' and 'Longest Fireworks Waterfall' both in 2020; the 'Longest chain of fireworks' and the 'Longest straight line of fireworks' in 2019 and the 'Largest aerial firework shell' in 2018.
The NYE fireworks display has not only put Al Marjan Island in the spotlight but also Ras Al Khaimah as a whole, with the event attracting more than 100,000 people and gaining global media coverage.
Another event putting the island on the map is the Ras Al Khaimah Half Marathon, which in February, 2020 saw His Highness Sheikh Saud get more than 5,000 runners under way at the start line near the Promenade in a race that set a new women's world record of 64:31 minutes by Ababel Yeshaneh of Ethiopia.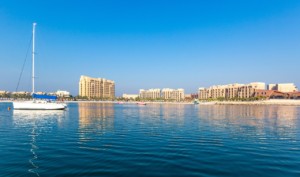 "Although the island has been open for several years now, its story is only just beginning and as we look to the future, it will continue to grow as an entertainment and tourism hub, with new attractions for people of all ages," says Mr Abdooli.
"Al Marjan Island captures the imagination in a way few places do and it is my wish that as many visitors as possible come to experience what we have to offer."