Ras Al Khaimah stand represented by Ras Al Khaimah Government Media Office, Ras Al Khaimah Tourism Development Authority, Ras Al Khaimah Economic Zone and Marjan
Media Office Director General says 'Governments need to be able to speak the language of the youth while being relevant relatable and reassuring'
Ras Al Khaimah welcomed crowds of visitors to its purpose-built stand, which highlights the unique proposition the northernmost Emirate offers during the first day of the inaugural Global Media Congress (GMC) at Abu Dhabi National Exhibition Centre (ADNEC), held under the patronage of His Highness Sheikh Mansour bin Zayed Al Nahyan, Deputy Prime Minister and Minister of the Presidential Court.
Represented by Ras Al Khaimah Government Media Office (RAKGMO), Ras Al Khaimah Tourism Development Authority, Ras Al Khaimah Economic Zone (RAKEZ) and Marjan, the UAE's northernmost Emirate showcased why it is the go-to destination in the region to live, work and explore to numerous media stakeholders who visited its contemporary stand situated centrally at GMC's exhibition space. Meetings with these stakeholders detailed the considerable developments taking place across Ras Al Khaimah's media landscape and cemented relationships between the Emirate's representatives and their partners in the national, regional and international media.
Her Excellency Ms. Heba Fatani, Director General of RAKGMO, took part in a one-on-one discussion at the event today, while Mr. Ramy Jallad, CEO of RAKEZ, will participate in a discussion on 'The role of integrated media hubs in the future of the media industry' tomorrow at the Congress, which runs until November 17.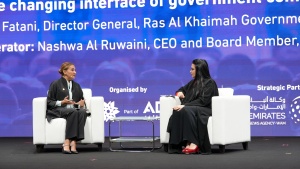 During a session titled 'The changing interface of government communications', Ms. Fatani stated: "In today's world, the bulk of our audience are youth. Governments need to be able to speak their language while maintaining our credibility as a government entity. This means that governments need to find ways to remain relevant, relatable and reassuring in the digital age and key to that approach is being humane and transparent, as well as reliable.
"RAKGMO utilizes digital communications to communicate efficiently and in real-time with the people. We have a digital-first and community-focused communications strategy that aims to inspire, engage and make a positive difference to the lives of people.
"We endeavor to ensure our communications are honest, clear and transparent and we aim to create content that carries a positive message that can empower people to act in a manner that benefits not only themselves but the wider community too."
Ras Al Khaimah is currently witnessing exponential growth across multiple sectors – particularly in tourism, manufacturing and entrepreneurship – driven by a strategic and sustainable development plan that encompasses all facets of life in the Emirate. Ras Al Khaimah Statistics Center has embarked on a first-of-its-kind census in the Emirate, the results of which will be published online and will help inform future government decision-making across all developmental sectors.